Hi friends! There are so many good books coming out this month, so I thought I'd round up a list of my most anticipated new releases. From light contemporaries to epic fantasies, it's a good month for new reads.
1. Nightblood by Elly Blake
Release Date: August 21st, 2018
Ruby's world has changed more than she ever could have imagined. She's in love with a powerful Frost King. She's the heir to the Fire Throne. And she may be a Nightblood--the spawn of a vengeful deity hellbent on releasing his wraithlike Minax from their prison. Once freed, these beasts will roam the earth, devouring every last person until he or she is nothing but an empty husk. But Ruby is able to control the Minax to a degree, and now she, her beloved Arcus, and her friend Kai must find a way to bring Frostbloods and Firebloods--sworn enemies--together to make a stand against a foe more deadly than any they've faced.
In this heart-pounding finale of Elly Blake's gorgeously written and action-packed Frostblood Saga, the fate of Frostbloods, Firebloods, and all of humanity is at stake.
I've really enjoyed the Frostblood series by Elly Blake (check out my review of
Frostblood
here). I love elemental magic, an interesting romance and a strong, complicated female lead, and this series has got it all in spades. There were some interesting mythology & world building developments in
Fireblood
that has me super excited to continue the series.
Side note: does "Nightblood" make you think of something from another fandom?
2. Rust and Stardust by T. Greenwood
Release Date: August 7th, 2018
Camden, NJ, 1948.
When 11 year-old Sally Horner steals a notebook from the local Woolworth's, she has no way of knowing that 52 year-old Frank LaSalle, fresh out of prison, is watching her, preparing to make his move. Accosting her outside the store, Frank convinces Sally that he's an FBI agent who can have her arrested in a minute—unless she does as he says.
This chilling novel traces the next two harrowing years as Frank mentally and physically assaults Sally while the two of them travel westward from Camden to San Jose, forever altering not only her life, but the lives of her family, friends, and those she meets along the way.
I was lucky enough to win an advanced copy of this book on Goodreads, and it's next on my list. It sounds chilling, and already has great advanced reviews, so I think it'll be a memorable read.
3. That's Not What Happened by Kody Keplinger
Release Date: August 28th, 2018
It's been three years since the Virgil County High School Massacre. Three years since my best friend, Sarah, was killed in a bathroom stall during the mass shooting. Everyone knows Sarah's story--that she died proclaiming her faith.
But it's not true.
I know because I was with her when she died. I didn't say anything then, and people got hurt because of it. Now Sarah's parents are publishing a book about her, so this might be my last chance to set the record straight . . . but I'm not the only survivor with a story to tell about what did--and didn't--happen that day.
Except Sarah's martyrdom is important to a lot of people, people who don't take kindly to what I'm trying to do. And the more I learn, the less certain I am about what's right. I don't know what will be worse: the guilt of staying silent or the consequences of speaking up...
School shootings are obviously a heavy and emotionally charged topic, and I'm interested to see how Keplinger tackles the subject. I read and really enjoyed her previous novel The DUFF, and I hope she fares as well on a more series subject.
4. The Other Side of Lost by Jessi Kirby
Release Date: August 7th, 2018
Girl Online meets Wild in this emotionally charged story of girl who takes to the wilderness to rediscover herself and escape the superficial persona she created on social media.
Mari Turner's life is perfect. That is, at least to her thousands of followers who have helped her become an internet starlet. But when she breaks down and posts a video confessing she's been living a lie—that she isn't the happy, in-love, inspirational online personality she's been trying so hard to portray—it goes viral and she receives major backlash. To get away from it all, she makes an impulsive decision: to hike the entire John Muir trail. Mari and her late cousin, Bri, were supposed to do it together, to celebrate their shared eighteenth birthday. But that was before Mari got so wrapped up in her online world that she shut anyone out who questioned its worth—like Bri.
With Bri's boots and trail diary, a heart full of regret, and a group of strangers that she meets along the way, Mari tries to navigate the difficult terrain of the hike. But the true challenge lies within, as she searches for the way back to the girl she fears may be too lost to find: herself.
I love to see the issue of the disconnect between social media and our real lives addressed in a book. This one sounds so interesting, and I love the hiking aspect. I read Moonglass by Jessie Kirby back in 2011 and found it just so-so, but I have high hopes for this one.
5. Our Stories, Our Voices: 21 YA Authors Get Real About Injustice, Empowerment, and Growing Up Female in America
Release Date: August 14th, 2018
From Amy Reed, Ellen Hopkins, Amber Smith, Sandhya Menon, and more of your favorite YA authors comes an anthology of essays that explore the diverse experiences of injustice, empowerment, and growing up female in America.
This collection of twenty-one essays from major YA authors—including award-winning and bestselling writers—touches on a powerful range of topics related to growing up female in today's America, and the intersection with race, religion, and ethnicity. Sure to inspire hope and solidarity to anyone who reads it, Our Stories, Our Voices belongs on every young woman's shelf.
This anthology features essays from Martha Brockenbrough, Jaye Robin Brown, Sona Charaipotra, Brandy Colbert, Somaiya Daud, Christine Day, Alexandra Duncan, Ilene Wong (I.W.) Gregorio, Maurene Goo. Ellen Hopkins, Stephanie Kuehnert, Nina LaCour, Anna-Marie McLemore, Sandhya Menon, Hannah Moskowitz, Julie Murphy, Aisha Saeed, Jenny Torres Sanchez, Amber Smith, and Tracy Walker.
Can I get a yassssss? I'm so pumped to see a nonfiction anthology by diverse female writers for young female readers. This sounds so inspirational and thought-provoking.
6. Darius the Great Is Not Okay by Adib Khorram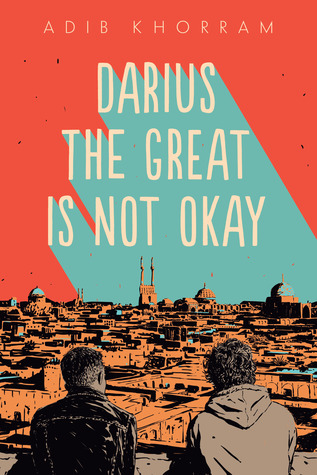 Release Date: August 28th, 2018
Darius doesn't think he'll ever be enough, in America or in Iran. Hilarious and heartbreaking, this unforgettable debut introduces a brilliant new voice in contemporary YA.
Darius Kellner speaks better Klingon than Farsi, and he knows more about Hobbit social cues than Persian ones. He's about to take his first-ever trip to Iran, and it's pretty overwhelming--especially when he's also dealing with clinical depression, a disapproving dad, and a chronically anemic social life. In Iran, he gets to know his ailing but still formidable grandfather, his loving grandmother, and the rest of his mom's family for the first time. And he meets Sohrab, the boy next door who changes everything.
Sohrab makes sure people speak English so Darius can understand what's going on. He gets Darius an Iranian National Football Team jersey that makes him feel like a True Persian for the first time. And he understand that sometimes, best friends don't have to talk. Darius has never had a true friend before, but now he's spending his days with Sohrab playing soccer, eating rosewater ice cream, and sitting together for hours in their special place, a rooftop overlooking the Yazdi skyline.
Sohrab calls him Darioush--the original Persian version of his name--and Darius has never felt more like himself than he does now that he's Darioush to Sohrab. When it's time to go home to America, he'll have to find a way to be Darioush on his own.
Okay, how amazing is this? It makes me so happy to see diverse authors and subjects in YA. Exploring a different culture alongside an lgbtq teen dealing with mental health sounds all kinds of relevant and illuminating. These are topics that need to be written about more often. Also, check out the
FAQ
on the author's page to learn (as I just did) not to ask *that* question.
That's all folks! Any new releases you're excited about this month that I've passed over?